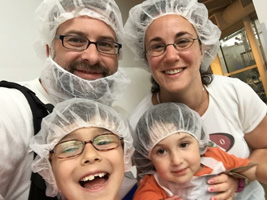 After many years as a Music Together parent with her children Alex and Febee, teaching the program was a natural next step. Donna had been feeling the calling to be a teacher for a long time, and the time was right to jump in.

Donna began studying music at a young age and is a trained singer. She spent many years as an actress, singer, and dancer in community theater productions and has performed on stages all over New Jersey.

Teaching Music Together is the perfect match as it gives her the opportunity to share her love of singing, use her theater skills, and apply her understanding of child development in a new way. As the Center Director for Music Together Learn and Grow, Donna looks forward to seeing families achieve success with the program just as hers has.